Don't Let Termites Destroy Your Greater Austin Building!
When termites get into your house, they usually do so without your knowledge. They will then settle in, increase the size of their colony, and eat away at the wooden structures inside your walls. Whether you have a termite infestation in your home right now or not, when you live in Austin and the surrounding areas, it's vital to set up termite protection because termites love our climate and will eventually find their way into your home. Roberts Termite & Pest Control are the local termite control experts that can help!
Our Termite Control Offerings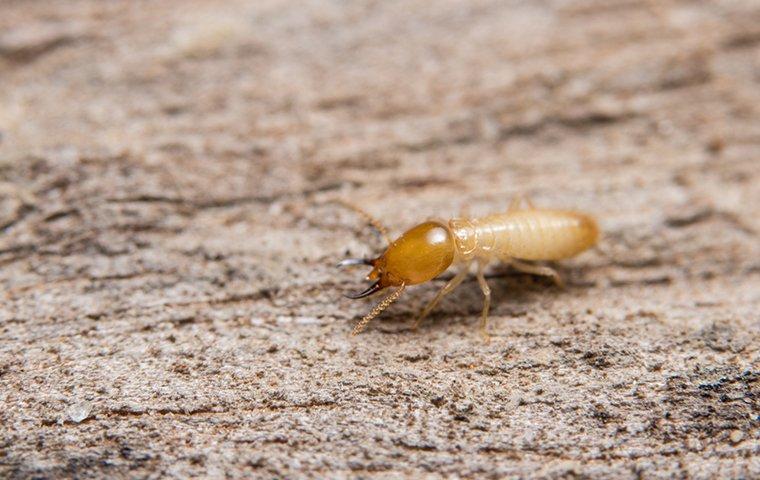 Our termite control process starts with a thorough inspection of your building. After the inspection, we move onto the treatment phase, and then any follow-up service as needed. We offer two severly effective and proven treatment options: Sentricon® System with Always Active™, Termidor®, Altriset® and Borate treatments using Bora-Care®. We will work with you and your unique situation to recommend a treatment solution.
We also offer pre-construction treatments and WDO reports, so if you're looking to build or buy, we can provide you with the peace of mind necessary to make a decision.
Termite Protection Through The Sentricon® System with Always Active™ And Altriset®

Sentricon® with Always Active™ and Altriset® termite baits are the best defense Texas homeowners have against termites.
Sentricon® with Always Active™
Sentricon bait stations are created to turn the termites of the colony against itself. Foraging termites find bait near a bait station before taking it back and sharing it with other termites and the queen - eliminating the entire colony in the process.
Sentricon bait stations are active 24/7, creating a protective barrier around your home to protect it all year-round.
Altriset®
Altriset® is the premier liquid termiticide on the market: safe, highly-effective, and long-lasting. Altriset® stops termites from feeding and is quickly spread throughout the colony to stop destructive termite activity in its tracks.
Altriset® stops termite damage within hours of application while continuing to last years afterward, protecting your home for the long-term.
Thorough Termite Inspections
Having a termite inspection conducted is a vital first step in the termite control process. One of our technicians will visit your home and inspect the interior, garage, and outbuildings for any signs of termites and termite damage.
The signs of termite damage often subtle and in hard-to-reach areas, but our professional service technicians have the knowledge and experience to determine whether you have an active infestation or not, as well as identify areas inside and outside your building that are conducive to a termite infestation.
Free Termite Estimates
After completing the inspection, we will provide you with a free estimate for our termite control services based on the findings of the inspection. Whether you would like a quote to treat for active termites or a quote to treat preventatively we are happy to help.
Quality Termite Control Treatments
Treatments vary based on a variety of factors. We most frequently use Termidor® to eliminate active infestations and prevent future ones. Termidor® is a liquid treatment that is applied to the soil around the building's foundation. It provides a continuous barrier of protection that is completely undetectable to termites. Whether they walk through it or ingest it, it will eventually eliminate them. Furthermore, once termites get Termidor® on them, they transfer it to other colony members which eliminates the entire colony.
Follow-Up Services
Termidor® treatments come with a one-year warranty. If termite activity resumes within the year, we will re-treat for free. This warranty is renewable on a year to year basis for up to 10 years by completing annual termite inspections.
Pre-Construction Termite Treatments
If you are in the process of building a new home, it's the perfect time to protect it from termites. Treating the foundation and areas where plumbing comes in when everything is exposed is far easier than treating them after your home is already built. Protect your investment before termites have a chance to invade with our pre-construction service.
WDO/WDI Reports
If you're in the process of buying a home or business, you may be required to have a Wood-Destroying Organism/Wood-Destroying Insect Report filed with your lender in order to complete the sale. Roberts Termite & Pest Control offers these inspections and reports as both a residential and commercial service to help you with the process.
Say Goodbye To Termites With Roberts Termite & Pest Control
Whether you have a current problem with termites or not at your Greater Austin property, Roberts Termite & Pest Control is the expert in protecting your building from these wood-destroying pests. With our wide range of services, we can help with pre-construction, post-construction, and WDO Reports. Contact us to schedule an inspection!
Schedule Your Free Estimate
Complete the form below to request your free estimate.