Don't Allow Rodents To Live In Your Greater Austin, TX Building
Furry rodents may be cute, but they do not belong in your home or business. When mice or rats get inside, they cause numerous problems including damaging your walls, insulation, pipes, and wiring. They also leave droppings everywhere, making you sick by contaminating food and countertops, and introducing parasites into your house. If rodents are living in your building, contact Roberts Termite & Pest Control right away. We'll eliminate those rodents, making your Greater Austin property safe from pests again!
Our Rodent Control Options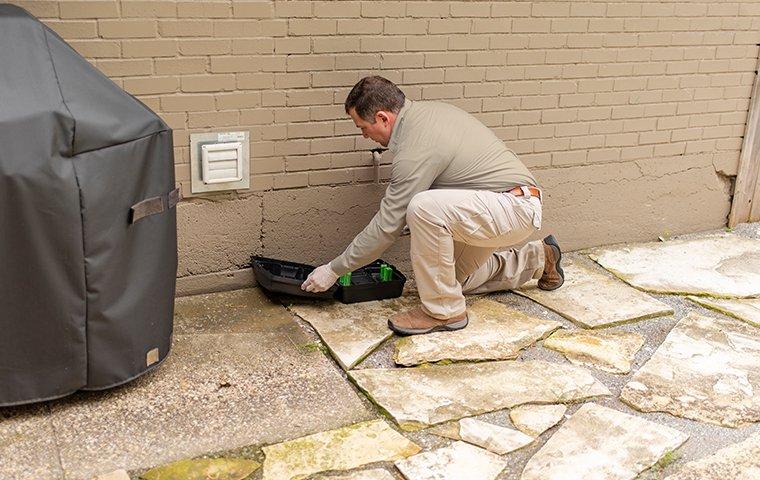 Depending on the rodents you're dealing with, Roberts Termite & Pest Control has a variety of rodent control methods for Round Rock, and more at our disposal that we'll use to get rid of them. Available on either a one-time or recurring basis, we'll customize our services to meet your specific needs. Our rodent control services include:
Rodent Baiting
For our professional rodent baiting services, our pest control technicians will strategically place tamper-resistant bait boxes around the perimeter of your property and then return to remove any mice or rats caught.
Rodent Exclusion Work
Offered as both residential pest control and commercial extermination service, we offer professional rodent exclusion services for homes and businesses. We'll identify cracks, crevices, and other entry points and seal them by installing copper hardware.
Rodent Repellent
To keep mice and rats away from your Greater Austin, Texas home or business, we can spray a repellant around the outside perimeter.
Say Goodbye To Pesky Rodents!
Rodents will wreak havoc in your Austin, Texas home or business, but you don't have to let them in. Get rid of rodents and keep them out for good with the help of Roberts Termite & Pest Control and our rodent control service. To get started with your service, contact Roberts Termite & Pest Control today!
Schedule Your Free Estimate
Complete the form below to request your free estimate.