Enjoy Your Austin Yard With Quality Mosquito Treatments
Mosquitoes can make spending time in your own backyard a nightmare. With their incessant buzzing and itchy bites, they'll drive you inside as soon as you go out. With the risk of contracting a mosquito-borne disease greater than ever, mosquitoes are simply not a pest you want to deal with. That's why Roberts Termite & Pest Control offers our mosquito control service in Austin and the surrounding area. We'll greatly reduce the number of mosquitoes on your Greater Austin property, allowing you to start enjoying your own backyard again!
Our Mosquito Control Process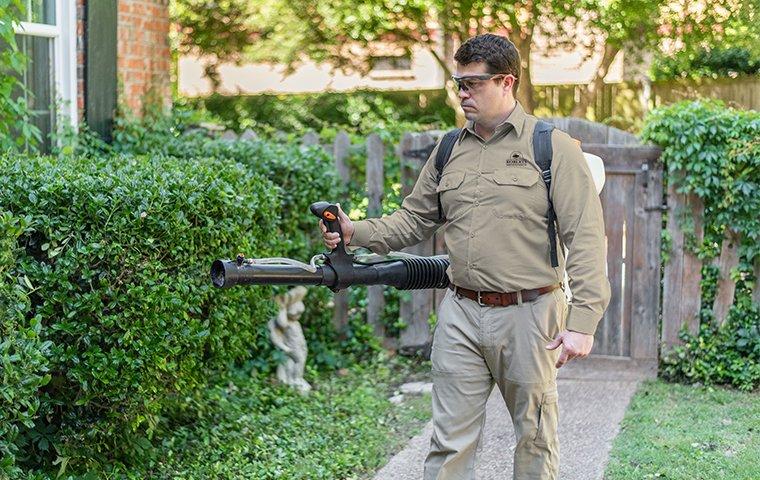 Our professional mosquito control service is available on a one-time or ongoing basis. If you choose a recurring service, we recommend getting treatments done every three weeks, but this can be modified based on your individual needs.
FREE Estimates
Before you commit to a treatment plan, we'll provide you with a free estimate for our mosquito control service. This service price is based on several factors, including the size of your Texas property and the surrounding vegetation.
Quality Mosquito Control Treatments
During a treatment, we use a backpack fogging machine to treat shrubs and vegetation around the perimeter of your home, as well as areas of standing water. The vegetation treatment eliminates adult mosquitoes where they rest during the day and the standing water treatment eliminates eggs and larvae. With this dual treatment, we'll rid your yard of mosquitoes in all stages of development, greatly reducing their populations on and around your property.
Our mosquito control service also includes recommendations for how to reduce areas of standing water around your property. Since standing water is used as breeding sites and is necessary for mosquito reproduction, eliminating these areas is the most effective way for homeowners to reduce mosquito populations and keep them from thriving.
Follow-Up Visits
Should you choose a recurring service, we'll return to your home on an agreed-upon schedule to re-treat your yard. If you choose a one-time service, no follow-up occurs.
Take Back Your Texas Yard From Mosquitoes!
Mosquitoes can make you feel like a prisoner in your own home, but they don't have to. With Roberts Termite & Pest Control's mosquito and residential pest control service, you can get your yard back, protect your family from bites and illness, and learn how to reduce their populations around your home in the long term. Reach out today for a free estimate!
Schedule Your Free Estimate
Complete the form below to request your free estimate.