Is Your Austin, TX House At Risk Of A Bed Bug Infestation?
Bed bugs were once a huge problem in the U.S., but in the 1950's they almost disappeared entirely. It would have been nice if that was the end of them, but unfortunately there has been a resurgence in infestations in recent years. Contrary to popular belief, bed bugs don't only infest unsanitary locations. They can be found in spotless houses just as easily as in dirty ones, although ridding them from a clean house often proves easier than ridding them from a cluttered one. If you suspect you have a bed bug infestation in your Greater Austin area home, contact Roberts Termite & Pest Control. We will take care of your bed bug control problem in Austin so you can get back to being comfortable in your home.
Our Bed Bug Control Process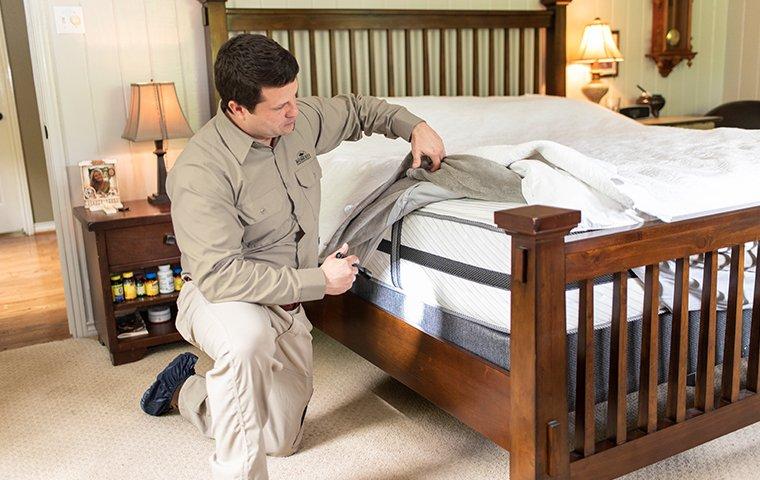 When bed bugs get into your home, they quickly find places to hide. While your mattress is often a favorite spot, it's not the only place they'll go. Bed bugs will hide in any clutter that you have laying around. They'll hide in clothing, behind picture frames, in electrical outlets, along the seams of upholstered furniture, and in cracks and crevices found throughout the interior of the building.
Thorough Bed Bug Inspections
First, a thorough inspection by a professionally trained service technician will be completed. This allows us to see how large the infestation is and if it's contained to one area or spread throughout the house. At this point, all excess items must be gathered up and bagged by the occupants of the home. Fabric items should be washed on a hot cycle and dried at 120 degrees for 10-20 minutes to kill any adult bed bugs, larvae, and eggs that are present.
Effective Bed Bug Treatments
We'll treat your home based on the findings of our inspection, keeping in mind that bed bugs can travel through the walls to other areas of your house. We can also provide mattress encasements. These covers are specially designed to keep any bed bugs that are already on the mattress stuck there with no escape, and bed bugs outside of the mattress unable to access it. Because of the way bed bugs hide, an integrated and cooperative approach to bed bug control must be taken between the homeowners, occupants, and pest control technicians in order to successfully dispose of the infestation.
Say Goodbye To Biting Bed Bugs!
If bed bugs have moved into your Austin, TX home and are making your life miserable, it's time to put an end to their reign of terror. Contact Roberts Termite & Pest Control for a bed bug and home pest control solution that will get rid of all the bed bugs in your home, including the eggs, larvae, and adults. With bed bug control service from Roberts Pest Control, you can finally say goodbye to biting bed bugs. We also service the areas of Buda, Lakeway, Round Rock, and more. For effective bed bug control, reach out to us today!
Schedule Your Free Estimate
Complete the form below to request your free estimate.